Discussion Starter
·
#1
·
So, I have had this truck for a couple weeks. Don't know if it was my best decision, I went against all logic, but I bought a Dodge product. Then again, the engine/tranny combo isn't Dodge, which is a plus. This maybe too long, didn't read material for most. But this is my honest review of this truck.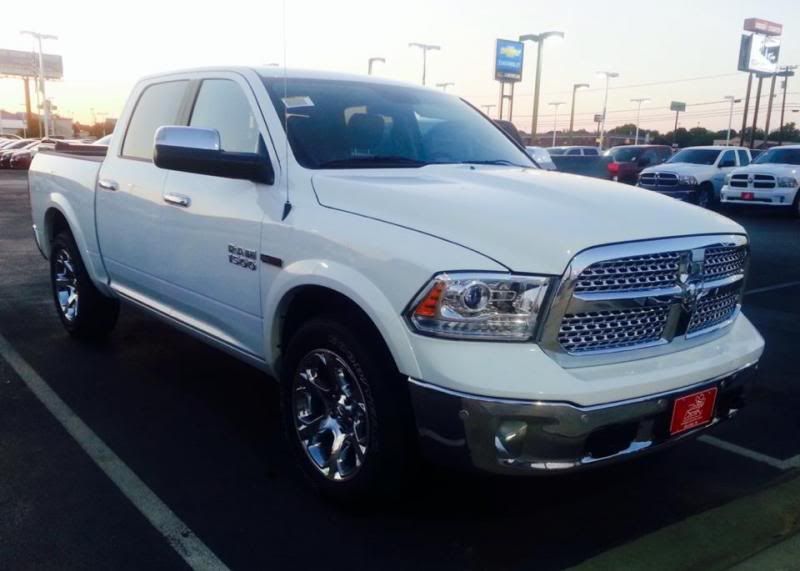 2014 Ram 1500 Laramie 4x4 EcoDiesel Review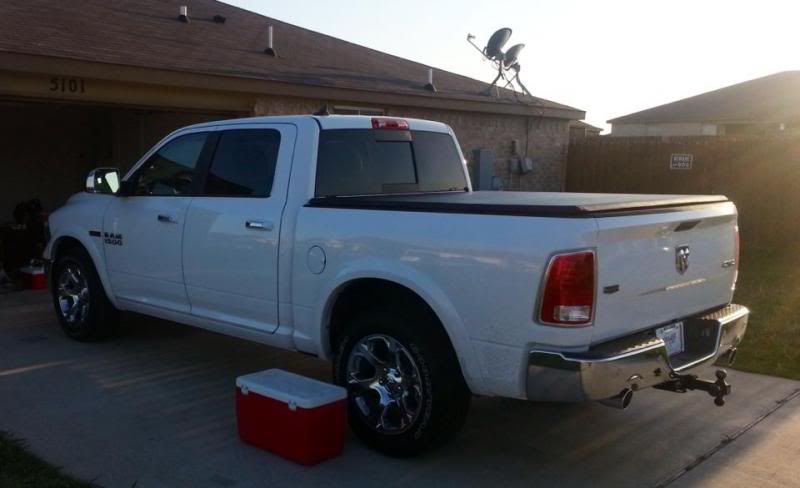 Initial Impressions: Coming from a 2010 Toyota Tundra 4x4 with the 4.6L V8, I had experience with excellent engines and transmissions. During the test drive, I notice that the EcoDiesel 3.0L VM Motori Diesel is not going to be fast off the line by any means. With only 240HP, my 4.6L V8 had more HP. But HP isn't everything in trucks and the 420 TQ out of the Ram's engine is very addictive and provides excellent passing power when you spool the turbo. As far as the interior of the Tundra, it was pretty Spartan even by the standards of 2010. Ram has stepped up their game. I sat in King Ranches, Tundra 1794's, Chevy High Countries, along with the Laramie Longhorn and Ram's interior can compete with them. I went with the slightly lower trim, which has proved to be as luxurious as I have ever been in. Ergonomics of controls, outside of the small gear selecting buttons on the steering wheel, the Ram is better sorted. The Tundra was simple, but there were long reaches in order to adjust the center stack. Paint qualities on the Toyota's are lackluster at best and the Ram appears to have better quality paint on its exterior. Paint color choices are fairly slim and poor in my opinion, which is ultimately why I went with white. It won't wow anybody, but it will never look bad. Ride quality was night and day difference between the two trucks. Mostly due to the adoption of rear coil springs vs. leaf springs that are in most trucks. The air ride was hard to tell if it was doing anything, outside of wowing people when you squat it in order to help short people climb in the truck. This is what I gathered from my first few weeks of ownership. I am quickly becoming an advocate for this specific drivetrain combo (Ram EcoDiesel with 8SPD Auto), hoping that typical Dodge problems arrive. If so, this decision will be a mistake, but if this combo proves reliable, I stand by my claim that this is the best ½ ton on the market.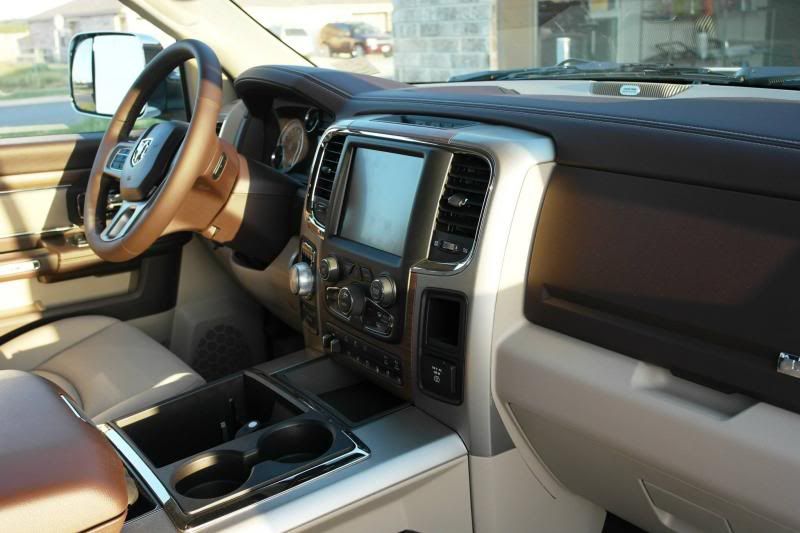 City Driving: Cannot express how nice this truck drives compared to my Tundra or by any other vehicle I have been in. Very quiet, with windows up you can barely hear the diesel under the hood. Road noise, exhaust noise, etc. are very minimal and I can only assume noise fatigue will never be an issue as long as someone doesn't mess with things. As far as driving characteristics, getting used to the way a diesel makes power will take some getting used to as you have to anticipate a little more in order to be in the power band. Brakes feel adequate to handle anything you can throw at it for daily driving, however pedal feels is almost non-existent compared to the Tundra's very positive feeling brake pedal. Now to the bottom line, fuel economy. I drove the truck for approximately 150 miles with pure in town mileage. I never got on the highway, only city streets with speed limits varying from 20-55 mph. Needless to say, I averaged 19.6 MPG according to the Ram's computer. I never saw city mileage like that with my Tundra and even rarely saw that mileage with pure highway miles. Huge victory for Team EcoDiesel.
Towing: Let's get an idea for the load I was towing. On the back of a 2000lb car hauler, I had either a 2014 Camaro SS 1LE or a 2013 Ford Mustang GT, which equates to roughly 6000-6500 pounds. The route was mostly back country two lane highways of rolling terrain with speed limits at 70-75 MPH between Killeen and College Station, TX. During the duration of the towing, I stayed with traffic at the speed limit. With an overall length of trip totaling 215 miles, I was able to achieve an average MPG of 15.6. That is 5-7 more than any V8 truck (including 3.5L EcoBoost Options) will get. Granted, those vehicles will have more passing power than my truck, but the EcoDiesel loafed along with that load and felt like it was laboring less than my older V8. All while running the AC, ventilated seats, and a nice stereo playing XM. In addition to the obvious benefits of towing with a diesel, the air ride suspension is amazing. With auto leveling depending on your load, the Ram stays flat and even throughout the trip. My old Tundra, with a beefier suspension of upgraded shocks and leaf springs, would still be nose up towing this same load. Another huge victory for Team EcoDiesel.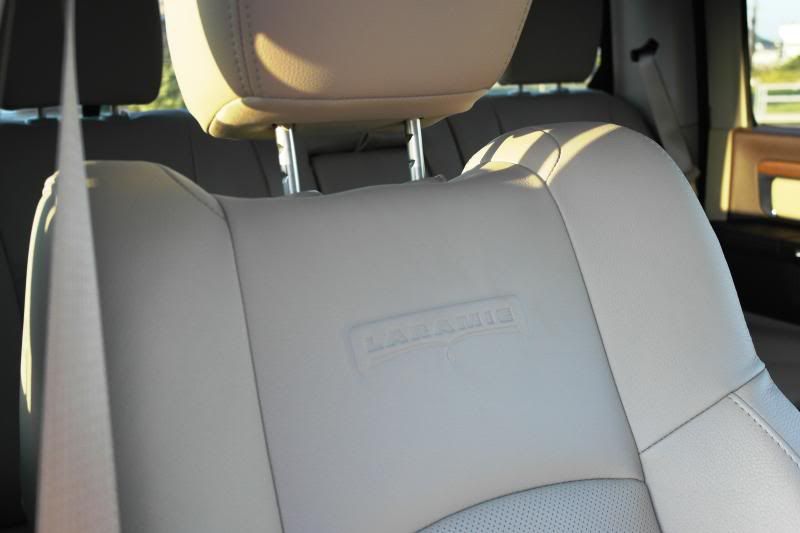 Highway Cruising: I tested this with a road trip from Fort Hood, TX to Lawton, OK via highway 281. A 300 mile one way trip that would last five hours with varying speed limits from 65-75 MPH. Once again, the Ram shined in the ride department maintaining a luxurious and smooth ride. The navigation system is actually one of the best I have ever messed with and the sound quality from the Alpine system is good enough for a factory system. Once I hit the open highway, I set the cruise control near the speed limit which ended up being 76 MPH the entire trip when I wasn't in a small town. The terrain on HWY 281 is like most TX Highways, rolling terrain between farms and small towns. The EcoDiesel never felt labored and the 8SPD transmission always had the Ram in the right gear, never searching like my 4.6L Tundra used to do. I also want to note how I was driving. I stuck with the mentality that in no way was I going to impede traffic or try to hyper mile in anyway. If I caught up to someone, I would pass them to maintain my pace. So now to what most people want to read, the fuel economy bottom line. For the first half of the trip, the ED returned 27.0 MPG at 76 MPH…that's right, the Ram ED gets what it actually advertised. On the way back, I bucked a 15 MPH headwind for the first half of the journey but I was still able to return 26.6 MPG overall. Combined fuel economy on a pure highway excursion, 26.8 MPG.
Bonus Driving: Not everyone has a road like TX 130 in their backyard like I do right now, but I decided to test the truck at higher highway speeds. New tarmac and concrete, TX 130 is a stretch from Georgetown to Seguin in order to bypass I-35 and the abysmal Austin traffic. Speed limits range from 80 MPH for the first half and 85 MPH for the second half. So once again, I set the cruise control at the posted speed limits to see what I returned. So, this aerodynamic brick was able to return 23.4 MPG on the way down and 23.2 MPG on the way back. Once again, not bad for a full sized ½ ton truck.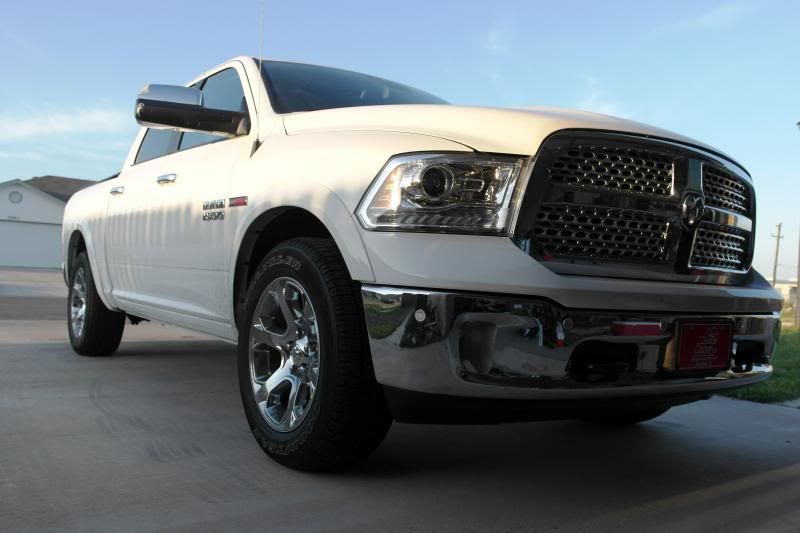 Driving like an asshole…I mean hybrid owner: For a 30 mile stretch, I decided to try my best to get great fuel economy, not caring about what I was doing to traffic behind me. Luckily, no one was on the highway that I chose so I was willing to do this. 70 MPH speed limit, I set the cruise at an easy 63 MPH once the aerodynamic mode kicked in on the air suspension and active front louvers. After 30 miles, I filled up and did the calculations and I returned 30.1 MPG over rolling terrain and driving through 4 stop lights and one small town.
Big Negative: One thing that I am noticing is the rate at which this truck consumes DEF. Ram claims that the 11 gallon tank is designed to last 10,000 miles, that way the oil change and DEF fill can be done at the same time. However, I currently have 1600 miles on the truck and I am close to the 1/2 tank mark. I don't know if there is a break in period of the exhaust emissions system, but this thing drinks DEF fluid so far. Luckily, it is easily filled at $3 bucks a gallon at truck stops, but I am still surprised at the rate it is consuming it.