It's summer time! What can be better than hop in your truck, tow a boat to a lake and enjoy beautiful weather? It's much better when you do it while enjoying your favorite tunes. You may be aware that CARiD is a part of a big family of specialty stores specializing on different types of vehicles, including boats. BOATiD.com is dedicated to all things related to watercraft and marine lifestyle.
Statistically, a very significant portion of truck owners also own boats, or rent them for the summer, so we decided to share some information regarding some of the most popular brands and products available at BOATiD. Take a look at the DS18 brand. This Florida-based company offers premium-quality marine-grade audio equipment designed for cars, trucks, side by sides, motorcycles, and even boats. DS18 speakers and subwoofers look and sound great, and they are completely waterproof.
DS18® SBAR25 - 600W 2-Way 4-Ohm 25" Black Wake Tower Speaker System

Specifications:
Continous Power Handling: 200 Watts RMS
Peak Music Power: 600 Watts MAX
Efficiency: 94.7dB 1W/1M 2.8V
Frequency Response: 63Hz - 20KHz
Features:
• IP65 Marine-grade compliant
• Tube mounting kit include
• Extrusion aluminium cabinet with black sand powder coating
• 8 Core wires for lighting and speaker
• Integrated LED-RGB sound bar lighting
• 4 x 4" speaker
• 2 x 1" titanium tweeter
• RF / BT or Wi-Fi controller for multi-function RGB LED lighting (optional)
• Designed to take your audio experience to a whole new level
• Proven to deliver outstanding sound quality and clarity
DS18® - HYDRO 10" 2-Way Marine Speakers with Bullet Tweeter and Integrated RGB LED Lights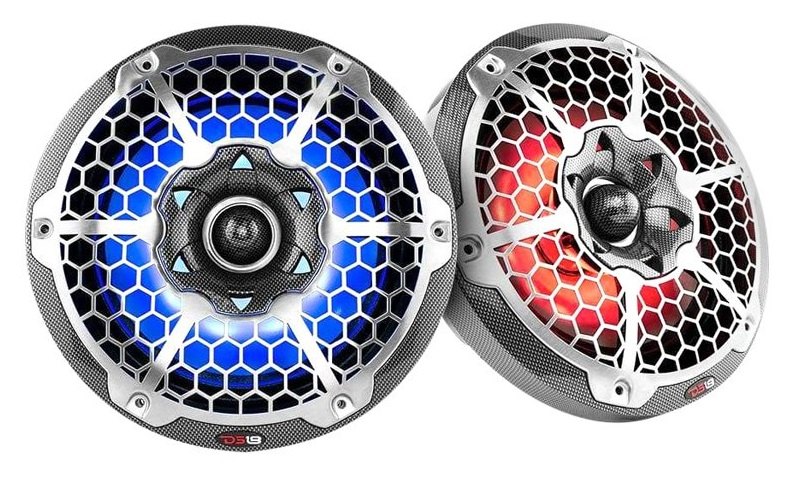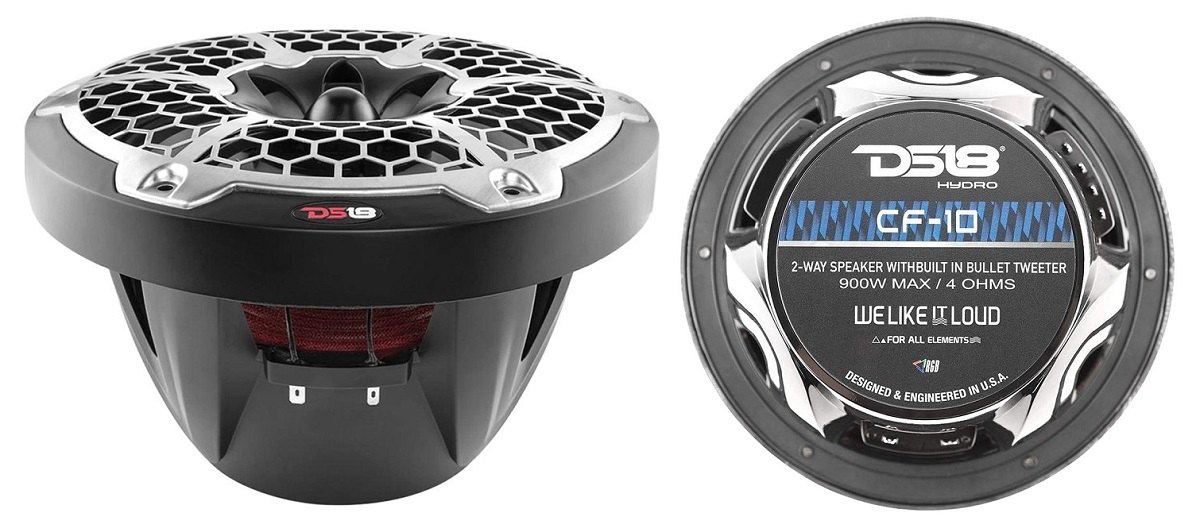 Specifications:
Model: CF10
Normal Diameter: 10"
Normal Impedance (Ohms): 4 Ohms
Frequency Response (Hz): 25Hz -2 KHz
Voice Coil Diameter: 2" (50.0 mm)
Power Handling RMS/PEAK: 300 W/ 600 W
Fs-Free Air Resonance (Hz): 40
Qts: 0.62
Vas - cu.ft (Liter): 1.042 (29.5)
Sensitivity (1W/1M): 88 dB
Xmax: 0.5" (13mm)
Mounting Hole: 7.87" (200mm)
Mounting Depth: 5.02" (127.5mm)
DS18® - HYDRO 12" 700W SVC Marine Subwoofer with Integrated RGB Lights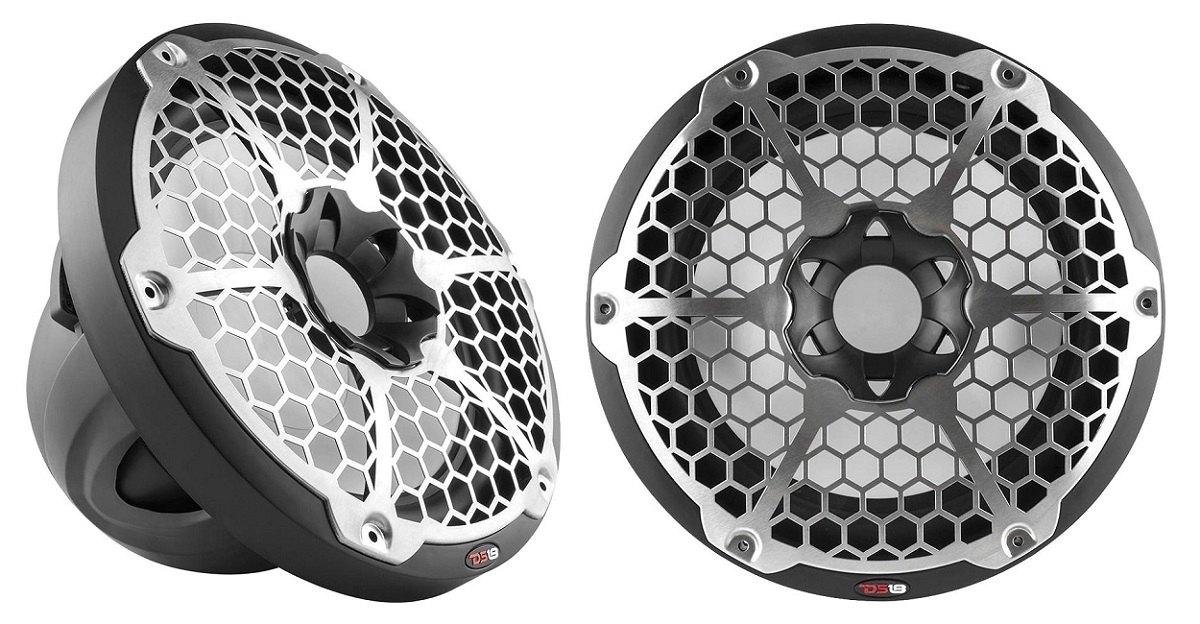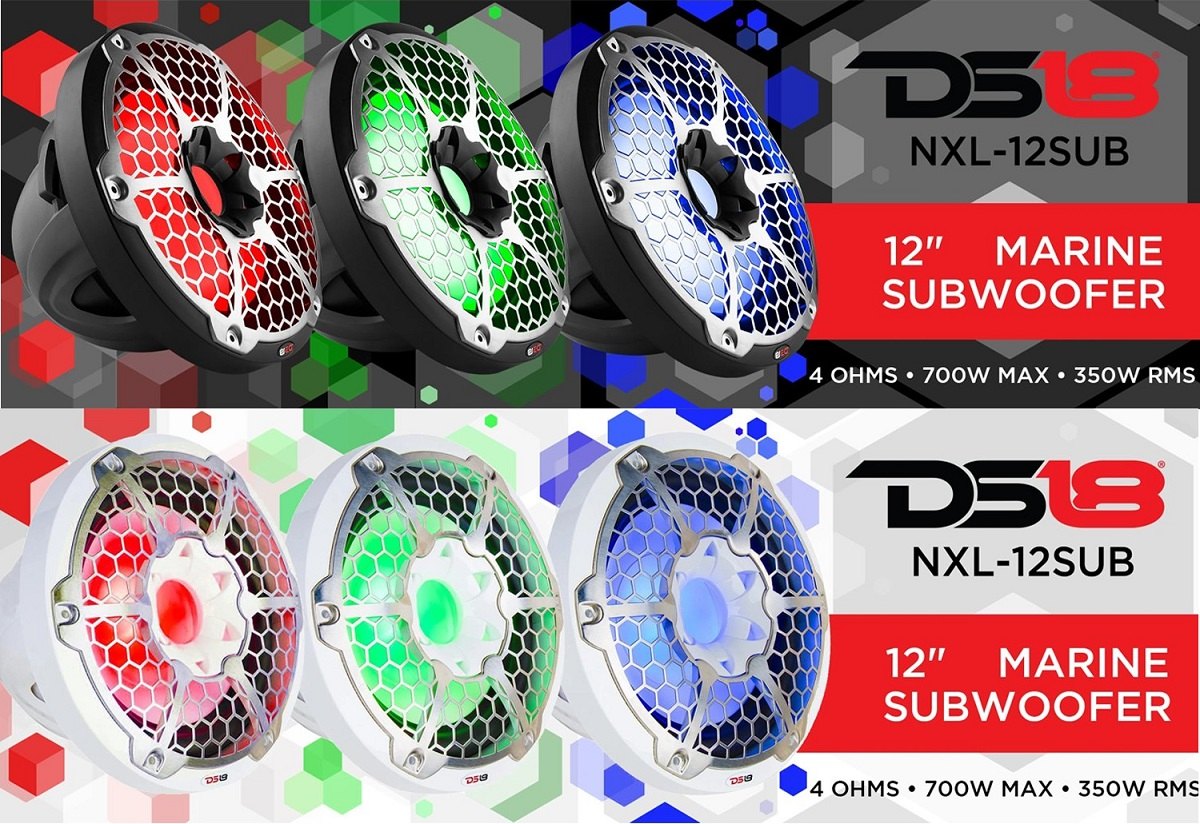 Specifications:
Size: 12"
RMS Power: 350W
MAX Power: 700W
Magnet Type: Y35 Ferrite Main Magnet
Sensitivity: 91dB
Nominal Impedance: 4 Ohm
Frequency Response: 30- 500Hz
Mounting Depth: 5.75/146mm
Mounting Hole: 11.81"/300mm
Click on the image to enter the product page at BOATiD.com.
To browse the full catalog of DS18 products, click the "Shop Now" button below:


Or use this link
Give our sales team a call at 888.453.5144 (Toll-Free) or 1.551.497.5895 (International) and we'll answer all your questions.​